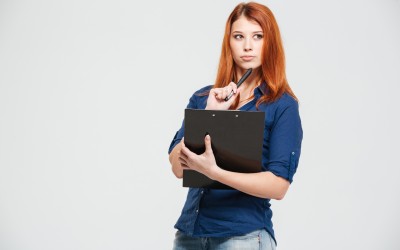 So often when I'm working with clients or just observing others in their habits, I notice that many people will pick something up, figure out what it is and maybe even what action step(s) need to be done and then put it down in a pile somewhere for "later". I'm always...
March 2016
Sometime More Really is More
We all have super busy lives and never seem to be able to get it all done. Sometimes this is due to being overcommitted and not learning to say no. But sometimes if we can be prepared in advance in a timely and easy way, we can do the various activities that we really want to do (um, like actually going to the gym.)
One of the strategies that I suggest for people who want to get their goals accomplished is to have the specific equipment/tools ready to go and on hand. And this might require having some duplicates of some of your possessions in your home or at work. What?? Having duplicates? Isn't that the antithesis of most professional organizers' philosophies?
Hey, I'm all about making things easy with minimal effort. Having some handy duplicate items in the home and at work will ensure that we busy humans will do the "to-dos" that we aspire to.
Here are some examples of "duplicates" that could make your life easier:
Specifically designated bags/totes/carryalls for various activities like, gym bag, workbag, shopping bag, kids'activities bag, beach bag, toiletries bag, etc. In this way, all the items associated with that particular activity will be ready, corralled and easy to grab on the go. This is a biggie.
A pair of scissors in every major room in your home and possibly in your car. Saves you steps for looking for a pair when you just need to snip something.
A jacket or cardigan that you leave specifically at work for when it's chilly or a big client shows up.
Pen/pencil and notepad in several central locations in the home. We always need to jot something down. 
Dry erase boards to record needed items in the kitchen pantry, near the bathroom and other places where supplies are kept. Keep track of needed items for shopping later.
Cutting board for meat/poultry, cutting board for veggies/fruit and one for fish. This will prevent cross-contamination.
February 2016
Did you know that February is national time management month? Are you managing your time effectively? Read below some suggestions on how to improve your time management.
Consider these time management tips
Use an electronic calendar, like iCal* or Google calendar to schedule appointments and tasks
Use a day planner to schedule goal-related activities as well as appointments. Now you are committed to these activities to achieve your goals
Maintain and update your daily task list throughout the day. Prioritize what' important.
File electronic documents by categories into folders and sub-folders
Read email only once and then either delete, file/archive or take an action step.
Use a timer (there is one available on your smart phone) to keep on task.
Put everything you own in its own "home" so it's quick and easy to retrieve.
Spend some time preparing the night before (work outfit, lunch, gym bag) for the following workday.
Have your gym bag and workbag packed and ready to go out the door.
Plan your errands so you can complete them in a time-efficient manner (planning your route in advance).
Record your favorite TV shows and watch them on your timetable.
Save time by shopping online. Create an email address just for online purchases so you won't get a deluge of email promotions in your regular inbox.
Write stuff down so you can actually remember it or remember to do it. (take pictures on your smartphone to remember stuff.)
Hang dry erase boards in the kitchen to write down needed pantry and grocery items. Hang one near the bathroom to write down needed toiletries and other supplies.
Plan meals in advance; prepare grocery lists (put it in your smartphone); and shop using the prepared grocery list.
Try to minimize your stress level so you can work more efficiently. Mini meditations?
Use your bluetooth headset or earbuds while on the phone so you can fold laundry or (quietly) tidy up the house.
Create a chore chart so all family members can contribute to household chores and responsibilities.
Listen to audio books while exercising or driving.
Learn to say "no" gracefully to requests that do not fit in with your priorities.
January 2016
Many people are looking ahead to the New Year of 2016. I wanted to just take a moment and look back on the highlights of 2015.
5 Tools/Apps/Things that kept me organized and less stressed in 2015
Each year I look at the new tools/apps/things that keep me organized and minimizes stress in my life.
Here's a look back at 2015
1.) Waze App 

My friends and family are sick of me raving about this navigation app. Waze is the world's largest community-based traffic and navigation app that works in real time. I use it even when I know the way—because it knows the traffic jams, constructions zones and hidden police traps that I might not know about.
2.) Nest Wi-fi Programmable Thermostat

For someone who has a crazy, irregular schedule like mine, this Nest Wi-fi programmable thermostat is a godsend. You can run your thermostat from your smart phone. It saves energy and money. And I got $100 rebate. Love it.
3.) Park Boston App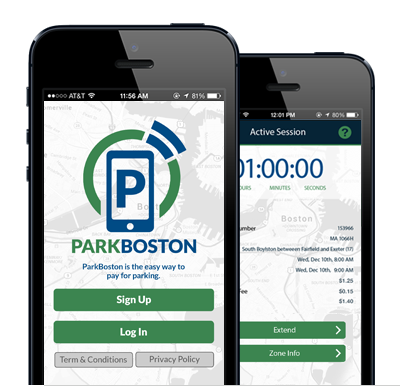 Ok, I only discovered this app at the end of 2015. It's fantastic. It allows you to pay for your parking meter from your smart phone (with a valid credit card attached to your account). But the best part is that you can extend your stay at the meter just by clicking on the app. As any Bostonian would say: Wicked awesome! (My guess is that other cities have similar apps—do a little research to find out.) http://park.boston.gov/
4.) Erasable Food Storage Labels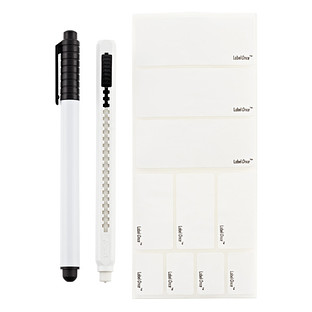 Identify and date foods in the refrigerator and the freezer. The labels go from freezer or refrigerator, to microwave, to dishwasher without missing a beat! The labels can be erased and updated as needed. Now you can know how old your food is and that's important when trying to stay healthy. Found at The Container Store.
5.) Hanging Out and Connecting with People!
Ok, not an app or a tool, but I find that connecting with people is the best way for me to find out about the best apps or tools to keep me organized or minimize my stress level! Whether, hanging out with my teen nephews or businesswomen at a networking event, I always seem to be able to find out some great info or tip.
Here are some organizing tips and tools when doing a Seasonal Closet Makeover:
• Take all items out of the closet. Get rid of dry cleaner bags—they prevent clothes from breathing. Get rid of all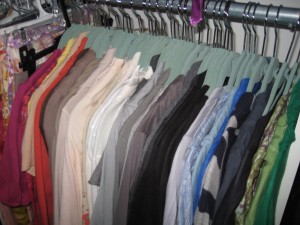 cheap wire hangers; recycle them by bringing them back to your dry cleaners.
• Suggestion: Purchase all the same type of hangers, such as the no-slip, slim, velveteen hanger at that are available in discount stores and online. These slim hangers will make a big difference in your closet. Consider using different colors for different categories of clothes. Consider also buying tiered skirt hangers and clip hangers.
• Clean out closet by vacuuming the floor and dusting all shelves, baseboards, light fixtures, etc. You can install Stick N Click light fixtures that are easily mountable and battery operated—just remember to turn them off when not in use.
• Go through all clothes and accessories, purging anything that does not fit your body or your lifestyle today.
Put all these items in piles, designated as: *
o "Consign"—Second Time Around, Poor Little Rich Girl, Buffalo Exchange, et al
o "Donate"—Goodwill, Dress for Success, Salvation Army
o "Swap" —get together with friends and have a Fashion Swap as a Girls' Night Out
o "Revisit" (after I lose the baby weight; when I go back to work, etc.)—put in bin, label and date when to revisit this group.
o "Off-season"—goodbye tank tops and sandals
o "Trash"—some things are just need to be tossed. Period.
• Mend and clean all the "keepers".
• Put warm weather clothes, shoes and accessories in off-season storage. This can be another closet, under-bed bins, like the ones at Target or labeled storage totes in the basement. Keep a couple of all-purpose warm weather clothing for those Indian Summer days that we get here in New England.
• Retrieve cooler weather clothing, shoes and accessories and make sure that everything is a keeper (see designations * above.) Hello, cozy sweaters.
• Begin putting shirts back in the closet by:
o Placing shirts back in closet with sleeveless shirts first, then short sleeve shirts, and finally long sleeve shirts.
o Grouping like colors together, e. g.: start with sleeveless whites shirts, then all other sleeveless shirts going from light to dark colors in the color spectrum. Repeat the process with short and long sleeve shirts. With this organizing tip, you will always be able to find the exact shirt that you need to wear.
• Optional Tip: Place all hangers pointing toward you with all the items facing the same way. (After you wear an item, place it back in the closet, pointing the hanger away from you. At the end of the season, notice which items are pointing in which direction. Now you know what you wear and don't wear. Maybe it is time to consign or donate those unworn items.)
• Place all skirts on skirt hangers grouping like colors. Place them in closet facing the hangers away from you, as described in hanging the shirts. Group light to dark colored pants following a color spectrum Consider grouping casual vs. work skirts separately and using tiered hangers (pic).
• Place all dress pants on pant hangers. Some people prefer their dress pants, clipped at the hem, on clip-hangers. Place all pants in closet facing the hangers away from you, as described in hanging the shirts. Group light to dark colored pants following a color spectrum. Drape casual pants over slim velveteen hangers and group by color. Some people prefer to fold casual pants and put them on shelves.
• Place all jackets on hangers. Place them in the closet facing the hangers away from you, as described in hanging the shirts. Group light to dark colored jackets following a color spectrum.
• Place dresses on hangers. Face hangers away from you, as described in hanging the shirts and group like colors together. Group light to dark colored dresses following a color spectrum
• Suggestion: Attach under-shelf wire baskets** under shelf. Fill with hats and miscellaneous items.
• If using shelves to store t-shirts and sweaters, fold these items neatly and group like items and colors together. Use shelf dividers** to keep them neat.
Pat your self on the back for a job well done. You now have a beautiful closet and dressing each day should be easy and enjoyable!